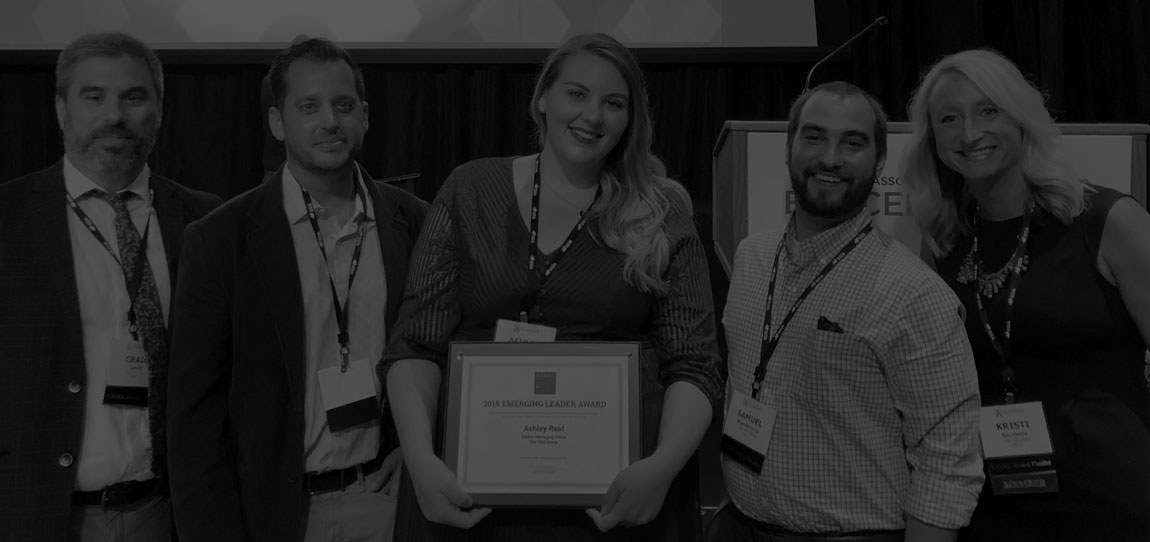 By Craig Lauer | July 30, 2019
When Yvonne DeSalle, vice president of associate engagement and talent development, nominated Senior Managing Editor Ashley Reid for an Association Media & Publishing (AM&P) Emerging Leader Award, many of us at YGS thought it was a no-brainer. We hoped AM&P would agree.
They did!
Ashley received the award at the 39th Annual AM&P EXCEL Gala Awards, thanking YGS for enabling her to achieve this level of recognition.
Accompanied by her fiancé, Kevin Kraynak, and four YGSers proud to show their support, Ashley's most poignant statement in her speech was when she thanked her 12th-grade English teacher for igniting her passion for the written word and instilling an "always be learning" mindset.
AM&P's Emerging Leader Award program honors rising stars in our industry. It recognizes up-and-coming association publishing and communications professionals 35 years and younger. Recipients are individuals who are making a clear impact on their organizations and our industry.
"We were delighted to hear that Ashley was recognized for her outstanding leadership skills," says Yvonne. "Her work, both with YGS and the community through our partnerships with local schools, is truly inspiring."
In his letter of support for the nomination, Craig Lauer, YGS Content & Copy Director, stated, "Ashley's ability to adapt and embrace the many changes her department has gone through with eagerness proves her adaptability and commitment to collaboration and leadership."
Jack Davidson, EVP, had this to say of Ashley's win: "This award is a perfect testament to Ashley's contribution to YGS. Since the beginning of her tenure here, Ashley delivers on our corporate mission, which is to exceed customer expectations every day. She personifies ambition with purpose, and that purpose is to produce quality content for the organizations we serve and to uphold the highest standards of our industry."
Owner and CEO Jim Kell agrees wholeheartedly. "Our company is very fortunate to have Ashley on our team. Her ability to work with our valued customers to deliver editorial excellence and exceptional service is paramount to our continued success. We are all very proud of Ashley's accomplishments and well-deserved recognition with the prestigious AM&P Excel award," he says.
We applaud Ashley for receiving this distinguished honor!