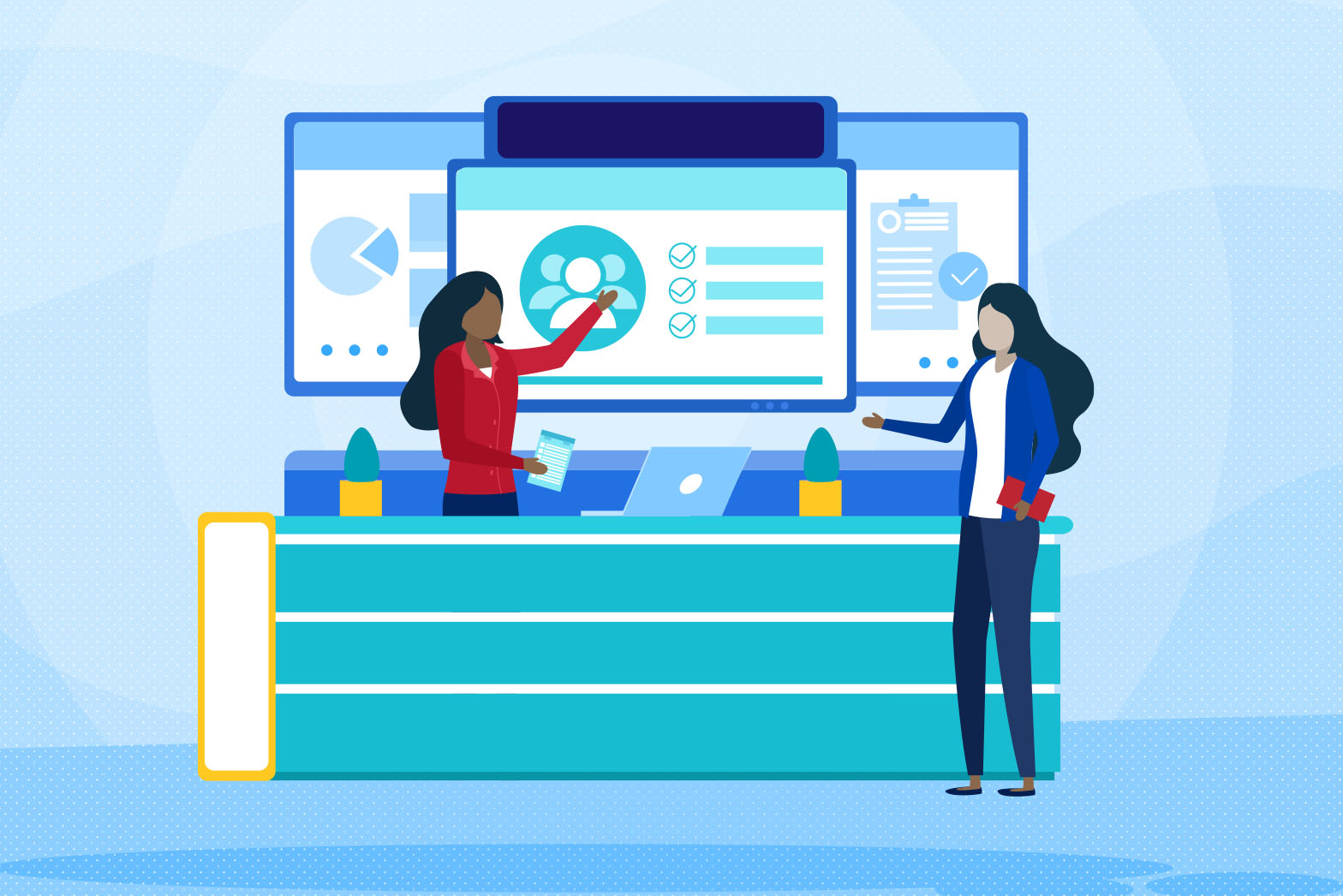 By Laura Gaenzle | August 15, 2022
Exhibitors have plenty to think about when designing a booth experience. Here are five factors that could greatly influence your exhibit's success at the next big show.
According to Trade Show News Network, event attendees spend an average of 8.3 hours visiting all the booths and displays at a trade show. As in-person events come back into the fold and as your company looks to exhibit at upcoming conferences, it's essential that you understand how to get the most out of your booth space—and how to walk the walk throughout the entire experience.
From the space itself to the people holding it down, here are some key practices you can implement for a successful exhibit.
Approachability
Other than maybe buzz about a great new product or visually striking branding, what can make your booth approachable? Layout. Booths should be inviting and open the door to make human, face-to-face connections in a natural, pressure-free way for attendees—and you.
One way to create a more approachable booth is by setting up tables in a way that encourages entry into the space. If your tables are set up near an aisle, that immediately cuts off any room for booth traffic, causing traffic jams that potential visitors may simply avoid. Tables should be set up alongside the booth space or further back to allow room for people to enter a less crowded, more inviting atmosphere. Think of it as an open floor plan.
Speaking of floors, booth flooring is an often-overlooked key to exhibitor success. Many conference venues such as convention centers and resorts have wooden or tile floors. If there is carpet, it's typically thin with little padding over the concrete underbelly. Keep in mind that attendees are constantly on their feet, moving from exhibit to session to lunch to session to exhibit and so on. They may appreciate an invitation to a heavily padded booth carpet, and that gets you some valuable face time to start a conversation.
Another approachability factor worth considering is seating. If you do opt to have seating in your booth, choose barstools or similarly heighted chairs. That way, if you feel that you must rest your feet, you don't sacrifice being at eye level with anybody who enters your space.
Interactivity
If you are looking for a differentiator to catch the eye of passersby (i.e., potential customers), consider creating an interactive space.
For instance, say you're selling a software solution for your industry. You could give conferencegoers a glimpse into how your product works by placing tablets on your booth table with interactive walkthroughs or even games programmed and ready to inform visitors.
Of course, as has been made paramount in the COVID-19 era and should be of emphasis moving forward, interactivity must be accompanied by cleanliness. Neglecting to sanitize tablets after an attendee touches one is not only a bad look nowadays, but it's risking infecting other attendees and exhibitors. Remember: No vaccine is 100% effective. It's also a smart idea to keep hand sanitizer and disinfectant wipes around for other high-touchpoint areas of your booth, whatever they may be.
Giveaways
For attendees, sometimes the most value they can get from visiting your booth is a giveaway, especially one that leads to a connection post-conference. Also note that, according to Princeton Marketing, 52% of attendees are more likely to enter an exhibit if they're offering some kind of giveaway or freebie.
On the more traditional side of things, you should always come to an event prepared with pamphlets, brochures, one-sheeters, and business cards. These are your tangible pieces that attendees physically take with them and read during breaks, in their rooms, in the venue lobby before dinner, and as they await their flights home, among other downtime opportunities. You can't afford not to get these often-inexpensive items in front of potential customers. There should be some form of contact info on everything you give away; there should also be a follow-up sheet in your space for visitors to fill out (name, company, and contact info), which will generate leads post-conference.
On the less formal side, who doesn't love free tchotchkes? Giving away items such as branded magnets, pens, mints, hand sanitizer, whistles—you name it—is a great way to be remembered after the show, and they can sometimes be conversation starters. (One item I've personally seen generate the most buzz? Golf balls.)
Sociability
Your affability and willingness to engage booth visitors are paramount to forging new relationships. According to Highway 85 Creative, 85% of an exhibitor's success at a trade show is dependent on the performance of the staff they bring.
In today's smartphone-laden society, it's important to not lose sight of the fact that attendees are actively looking to connect with you face to face. If you are sitting down, slouched over on your phone or laptop, you give off a vibe that you don't want to be disturbed. Instead, try to keep electronics away or out of sight so that you can openly engage and welcome attendees into your booth.
When it comes to actually talking with booth visitors, more personal, human conversations may serve as a bridge to doing business based on likability and trust. When asking visitors questions, leave them open-ended. Avoid questions such as, "Can I help you find something?" or "Do you have any questions?" Instead, questions such as "What has been your biggest takeaway from the conference so far?" or "What are some of your daily challenges that we can help you with?" leave far more room for an ongoing discussion.
Follow-up
When an event ends, that doesn't mean your job ends. Remember that follow-up sheet? That should offer you plenty of leads to follow up on after the conference. That noted, leads shouldn't be pursued until a couple of days after an event. Most professionals return to a flurry of emails and items to catch up on, so giving them a few days to breathe will help to garner more actionable responses.
Looking for further guidance on event management, design, sales, and more? Let's connect!