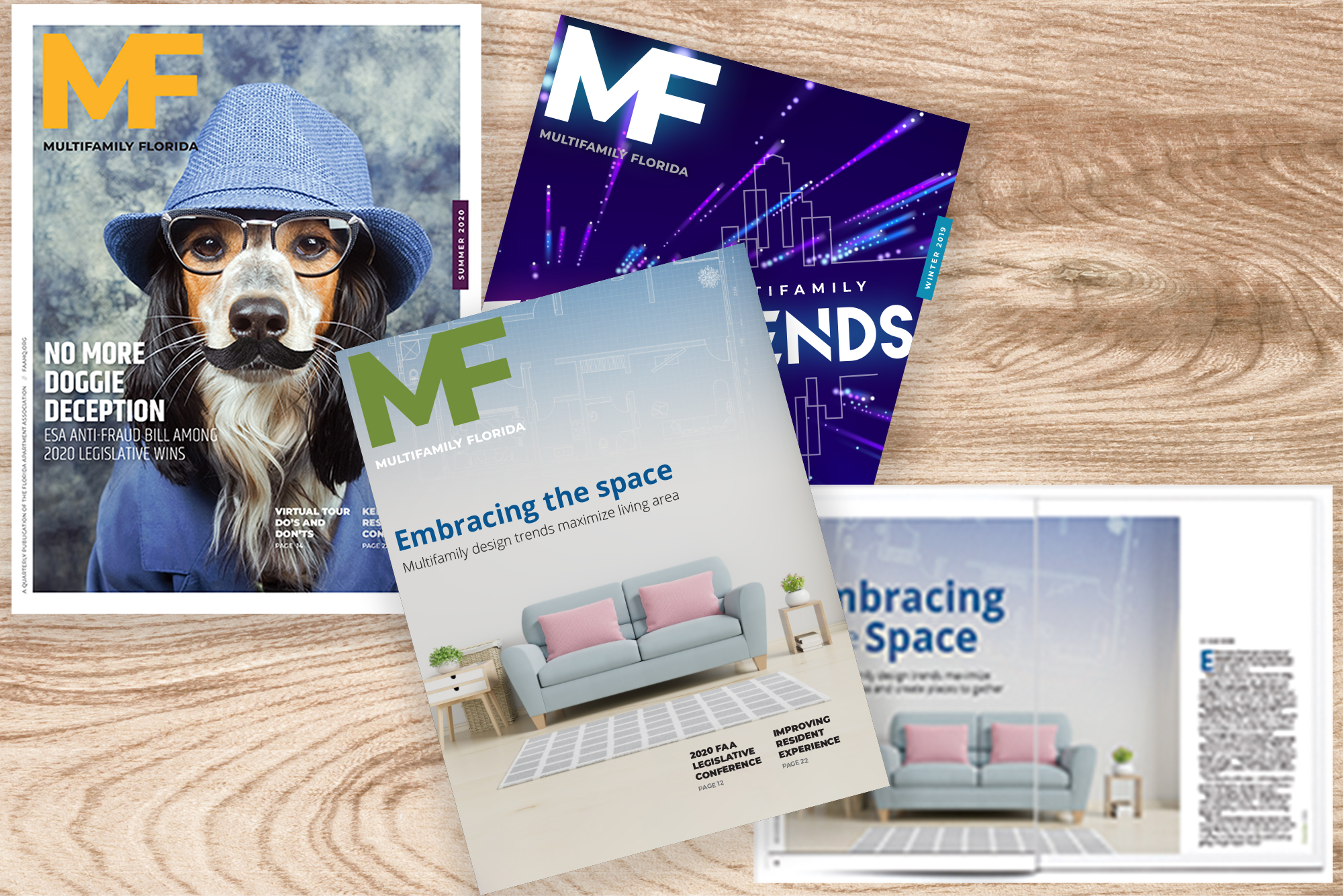 By Samuel Hoffmeister | March 21, 2022
YGS Senior Art Director Mike Vucic knows what it takes to create unique, stunning designs that not only exceed client expectations but also win awards. The latest example: a 2020 Charlie Award for Best Redesign, presented by the Florida Magazine Association, for the Florida Apartment Association's (FAA) Multifamily Florida magazine.
In just a few months, Vucic, along with several other YGS associates, put in hours upon hours of research, conceptualization, and collaboration with FAA to deliver the award-winning redesign, which was introduced to readers last December.
Garnering honors such as a Charlie Award, Vucic said, goes beyond upholding our high standard of striking design. "Winning this award—or any kind of similar award—doesn't just validate our team's hard work or skill," he said. "It really reinforces the value of having great relationships with our clients."
YGS Vice President Serena Spiezio, who is also an artist at her core, previously serving as creative director, echoed the importance of that altogether team dynamic. "YGS is always proud when the design team's commitment to constant creative reinvention gets recognized," she said. "Our designers work closely with our clients to ensure that we are delivering design that bolsters their brand, while creating an engaging product that looks and feels truly custom.
"Publication redesigns are our favorite projects; they allow the team to be inventive and creative together."
The process of a redesign is extensive, and it doesn't start with mocking up ideas or choosing fonts. It starts with knowledge. "You need to be informed before you start putting pen to paper, so to speak. It starts with discovery—learning about the client, its audience, its industry—and knowing what else is out there," Vucic said. "Who's the competition? What are they doing with their magazine?"
Then you have to find what doesn't work well, evaluating the current product with the client and looking at ways to improve on it. "You really have to do an open, honest review of their magazine," Vucic added. "Look at what's not working and, visually, how you make the content more readable, more digestible for the audience. Starting with that collective foundation of knowledge, research, and vision puts you in the best position to deliver something spectacular."
And deliver we did, but harkening back to an earlier focus on relationships, it takes a client that understands the need for open communication, honest feedback, and a desire to create a truly standout publication. FAA was the perfect client in this case. "From the very beginning, FAA was wonderful," Vucic said. "Starting with a really good discovery session and establishing that collaborative relationship right off the bat truly allowed us to hit the ground running and, ultimately, deliver on their needs and be successful in this venture. It's hard to be receptive to such a big change. But we pushed it, and they were right there with us every step of the way."
As for what winning this award means for the YGS design team moving forward, Vucic said, "We can't get too comfortable and use what we did here as formula. We need to keep pushing forward. We need to continue challenging ourselves to be even better."
Whether it's a redesign, building a brand-new publication, or any other of the many services the YGS design team offers, connect with us to learn how we can better position your business for success.